Your store is the place where you can sell anything digital. Anything from your pre-recorded videos, courses, challenges, workshops, master-mind classes and much more. This article will help you manage your store items that are in your store. If you're looking for how to create store items, check out this help article.
Organize Your Store Items
Adding Filters and Tags to Your Store Items
If you add tags to your store items, it allows the users of your store to more quickly and easily find what they are looking for. They can just press the filter button and quickly see all the items that match what they are looking for. To read more about adding filters and tags, check out this help article.
Store Sections and Ordering Store Items
You can organize your store items into sections. You can reorder your store items within a section by simply dragging and dropping them in the preferred order.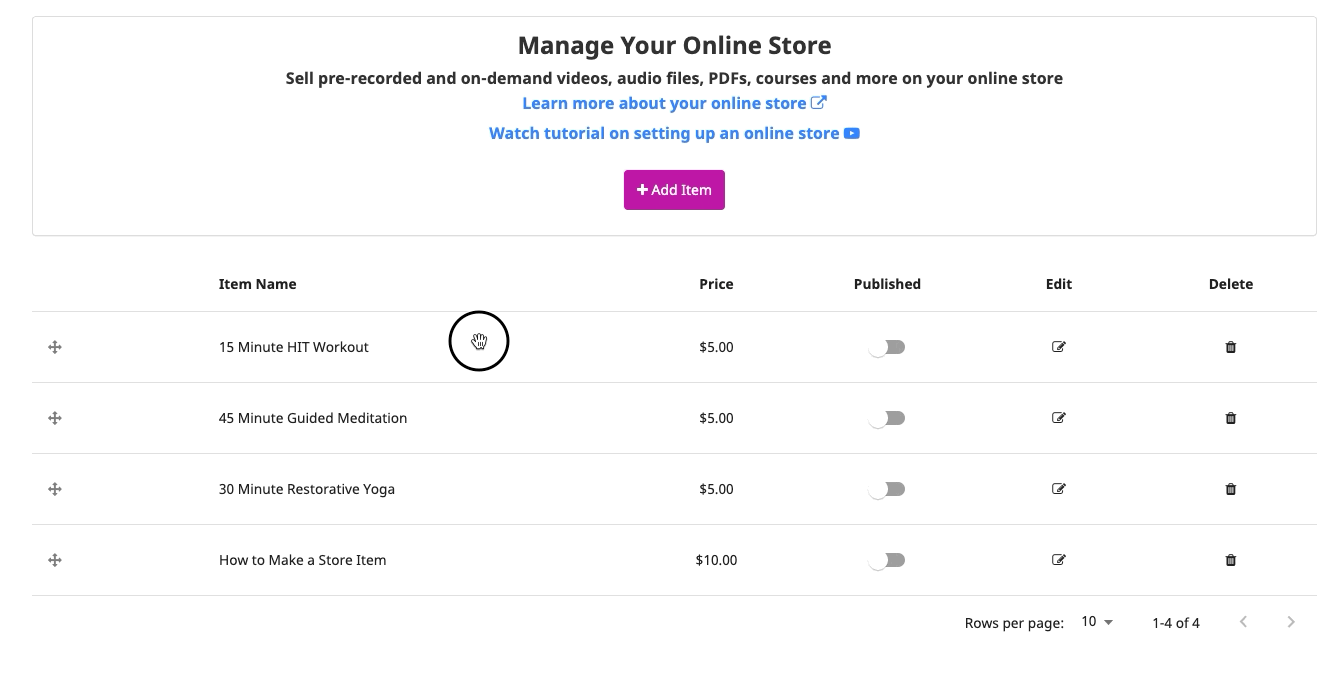 You can also adjust the order of your sections simply by dragging and dropping them in the preferred order.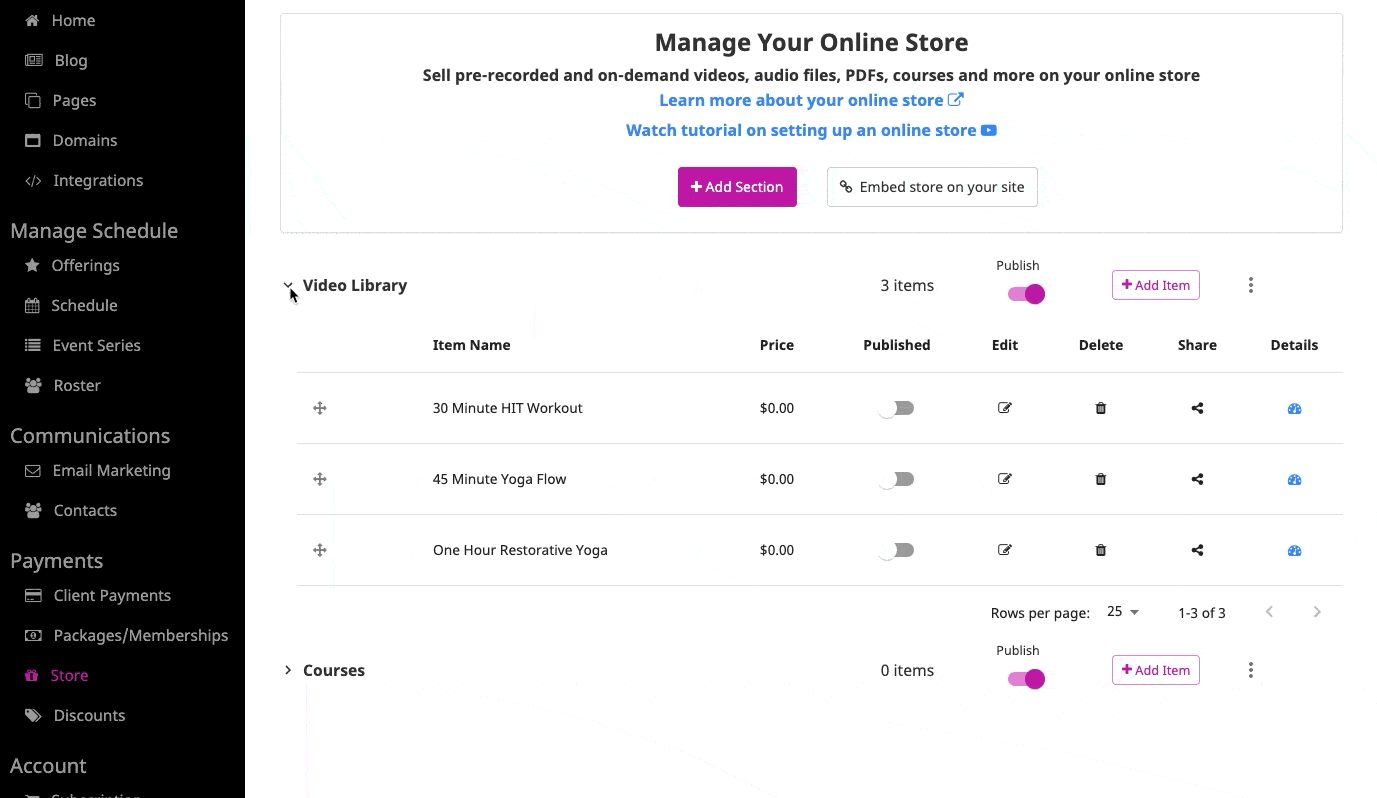 If you would like to move an item from one section to another, simply drag the item out of the section and select the section in the pop-up that displays.
You can also change the section by editing the store item and selecting the section you prefer on the edit page.
You can also edit or delete a section by clicking the more (3 dots) icon in the section row. You can also unpublish a section, which will hide it and all of the items contained within it from your public store page. Note that you can only delete a section if there are no items in it. If you'd like to delete a section, please remove all the items first.
Publishing Your Store
Publish Your Store Items
Before people can see or purchase your store items you need to make sure you do a few things. The first step is to make sure your store items are published. Toggle the "Published" toggle on your store item to make it viewable on your store page.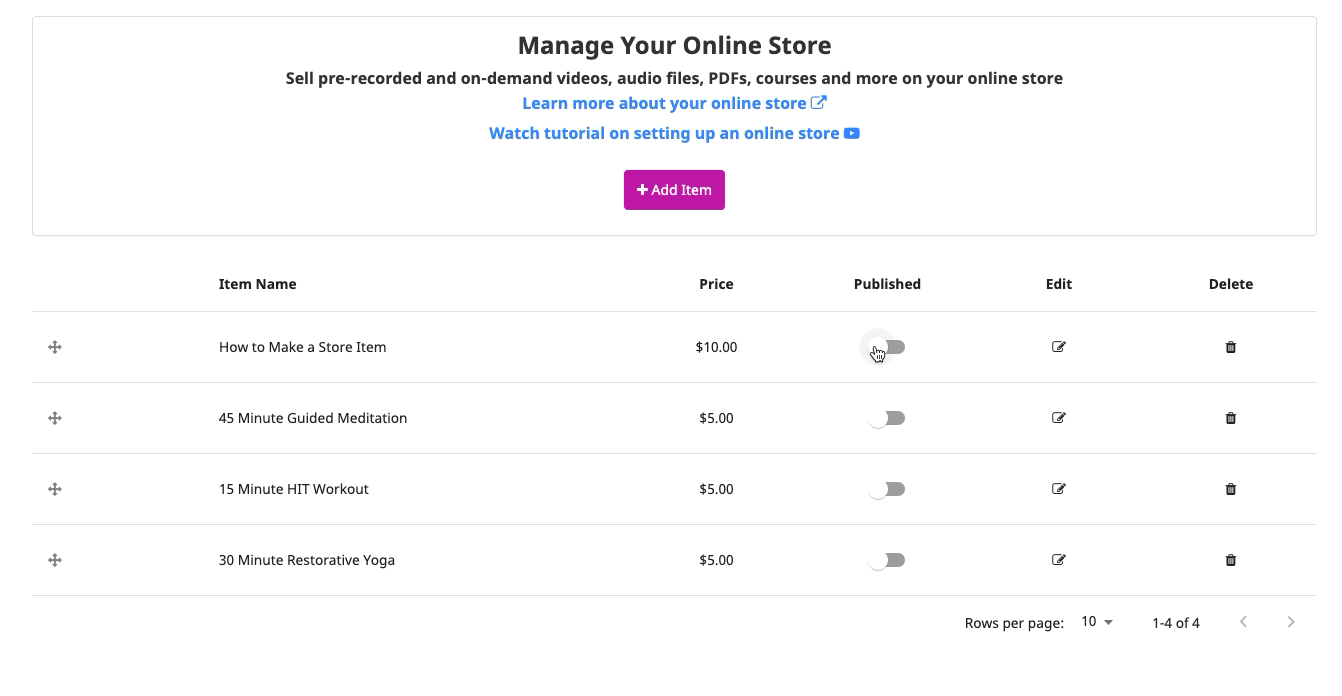 Publish Your Store Page
After you have published the store items that are ready to be viewed and purchased, you want to make sure your store page is published. If your store page isn't published, people won't be able to navigate to your store page.
Head on over to "Pages" under the "Edit Website" section and find your store page and press the publish toggle. Here's an in-depth help article on managing your pages.
Editing and Deleting Your Store Items
Editing
If you would like to edit any of your store items, simply press the edit icon for the item you'd like to edit. Check out this help article for how to create and edit your store items.
Deleting
If you just want to remove a store item from your public store page, it may be best to unpublish your store item versus deleting it so you can have access to it and repurpose it for later. But if you truly want to get rid of your store item forever, you can delete the store item by pressing the delete icon (trash can) next to the store item you wish to delete. Note that people who purchased your store item will still have access to it after you delete it.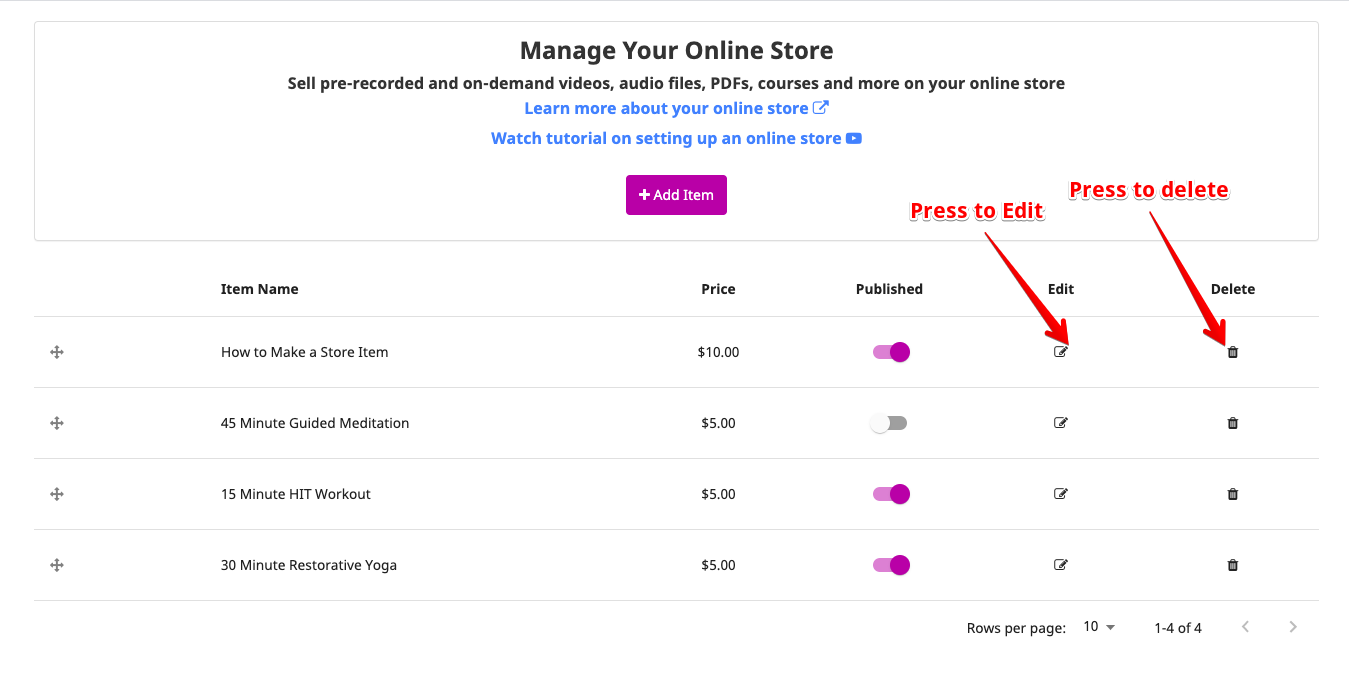 P.S. Join our Facebook group and connect with other OfferingTree users to share questions, offer ideas and insights, and support each other towards a more thriving wellness business.