This article describes how to sell "Packages" on your website. A package is a bundle of credits that can be used to register for classes, appointments, event series and workshops. For example, you can create a "10 Pack" and sell it for $150 and it can be used for all your offerings or a select group of offerings. A credit can be used to register for classes, appointments, and store items. Currently, every class, appointment, and store item is worth 1 credit, but in the future, we plan to allow you to set how many credits something is worth. Keep reading to learn how to create and manage your packages and how your clients or students purchase and use them to register.
Creating a Package
There are two things you need to have set up before you can create a package.
At least one Offering. If you haven't created an Offering yet you'll be asked to do that. For an overview on how to create Offerings and creating your schedule with OfferingTree please see this help guide.
Connecting a payment processor (Stripe or Braintree). To read about how to get started accepting payments online with OfferingTree check out this help article
Once you can accept payments and have at least one Offering, you can create a package. To get started, visit the "Packages" page under the "Payments" section and press the "Create Package" button.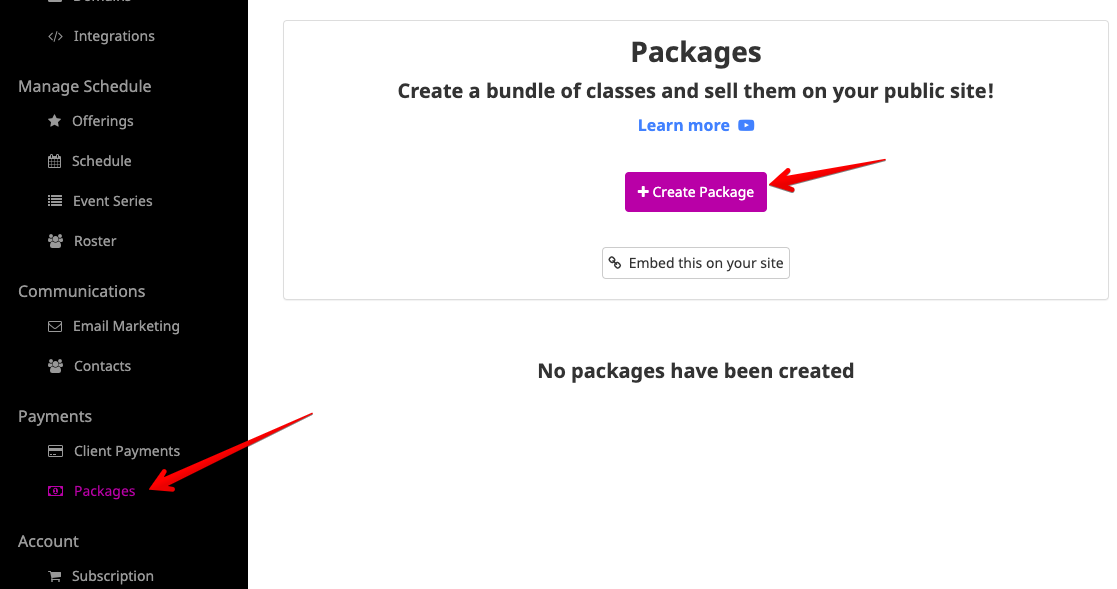 Once you press the Create Package button, a pop-up displays. Fill out the Create a Package form to configure your package.
Package Usage: What a package can be used for
If you would like this package to be valid for all your offerings, choose "All Offerings". If you would like the package to be used only for your online store, choose No Offerings make the store items available for this package. If you would like the package to be valid for all your offerings except for a few select offerings, choose All Offerings Except and select the offerings that the package should not be valid for. If you would like to choose specific offerings to be valid with this package, you can choose them by selecting Choose Offerings multi select picker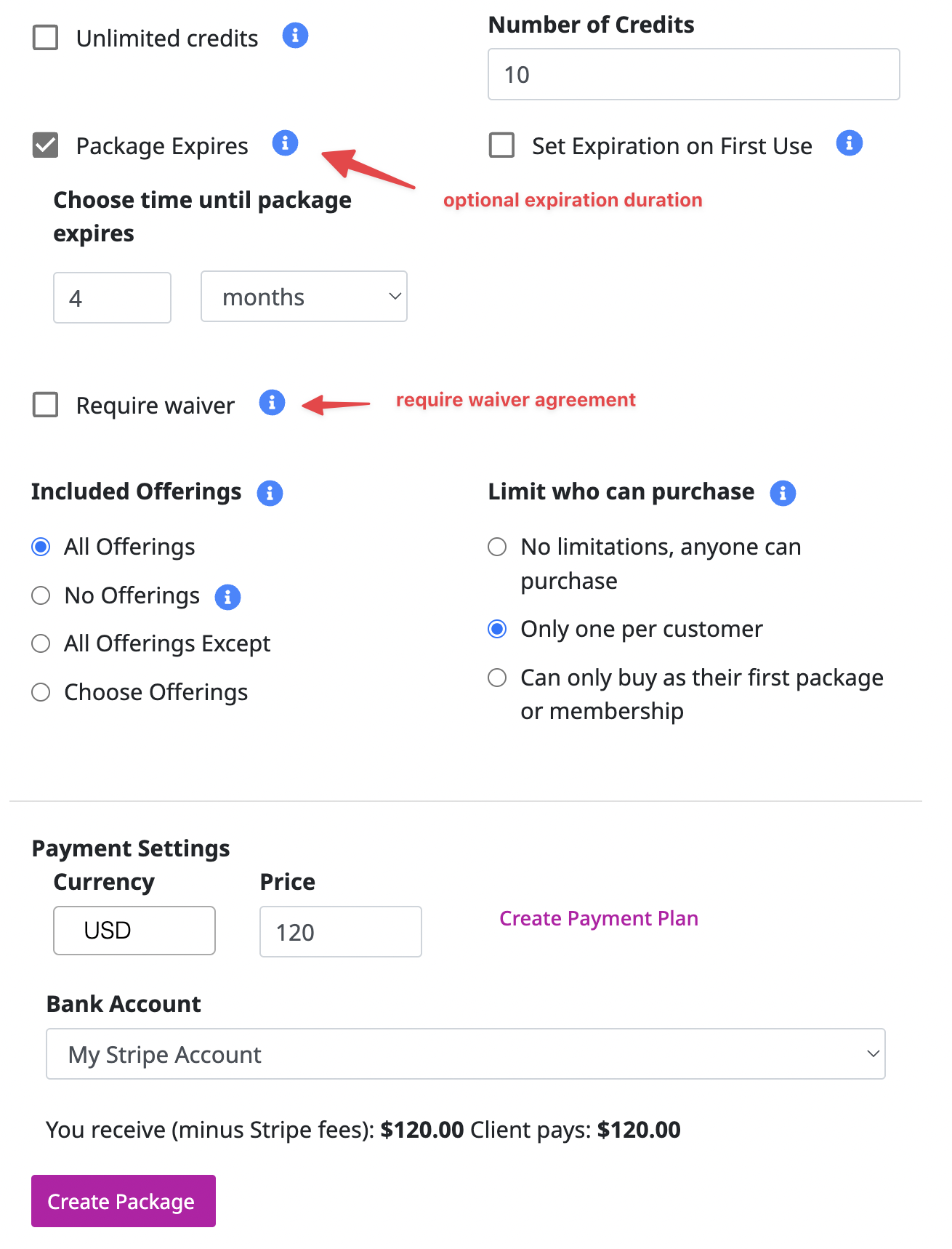 If you only have a small number of events, event series or appointments that you don't want to accept memberships for as payment, you can uncheck the Accept valid memberships and packages checkbox in the Payment Settings of the event, series or appointment.

Package Credits: Set How Often a Package Can Be Used
Packages can be either unlimited or contain a limited number of credits. Check the "Unlimited credits" checkbox to make the package unlimited, or enter the number of credits for the package.
Package Expiration: Set How Long the Package is Valid For
You can optionally add an expiration date to your package. Just select the "Package Expires" checkbox and then select the time duration for the package. You can select any number of weeks, months or years.
You have the option to start the expiration clock starts when your client purchases the package or when they first use it. If you do not check the Set Expiration on First Use checkbox for example, and you entered a one-month expiration, then your client has one month from the time of purchase to use the package.
If you do check the box, then your client has one month from the date they first use the package before it expires. "First use" depends on the type of item being purchased - for a store item, the clock begins as soon as they purchase the item; for a class or appointment, the clock begins at the time of the class or appointment. For example, if they used the package to register for a class that begins in two days, their package will expire a month after that class begins.
Your client will receive a notification email 24 hours before the package expires if they still have credits left on their package. This is optional and if you don't select the expiration checkbox, packages do not expire.

If you do provide an expiration date, the package will need to be used before it expires. Additionally, the package can not be used to book classes or appointments beyond the expiration date.
Once you have set up your package and selected the payment information, press "Create Package". This will save your package. You can always go back and edit it by hitting the edit pencil in the packages table.
Set Limits on Who Can Purchase Your Package
You can limit your package to be purchased by only new customers who have not bought another package or membership from you before or limit the package to one per customer account.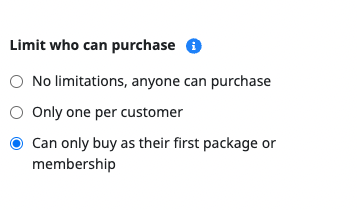 If you select No limitations, anyone can purchase, then there are no limitations on who can purchase your package.
If you select Only one per customer, then only one of these packages can be purchased by this customer's account. If they try to buy another one, they will receive an error message letting them know there is a "only one per customer" limit.
If you select Can only buy as their first package or membership, then they will only be able to purchase this package if they have not bought any other memberships or packages from you. Note that if they pay for single event registrations (drop-ins), book appointments with you or purchase your store items they will still be able to buy this. It's only if they already purchased another package or membership.
Packages Sales Page
Once you have at least one package created, your public-facing site will have a new page called "Packages". This page will host all your packages and memberships. You will need to publish this page so that it is visible to all your website visitors. You can publish the page and also edit the title and the order in which it appears on your public site by visiting the "Pages" page under "Edit Website". To learn more about editing pages and re-ordering them, watch this tutorial video. If you are embedding OfferingTree into another website, you can embed your memberships and packages as well. Embed Your Packages & Memberships Page on Another Site and Embed your Packages and Memberships on an Existing Site.
Editing a Package
To edit a package you already created, go to the "Packages" page under "Payments. Press the "Edit" icon in the corresponding row of the package you want to edit.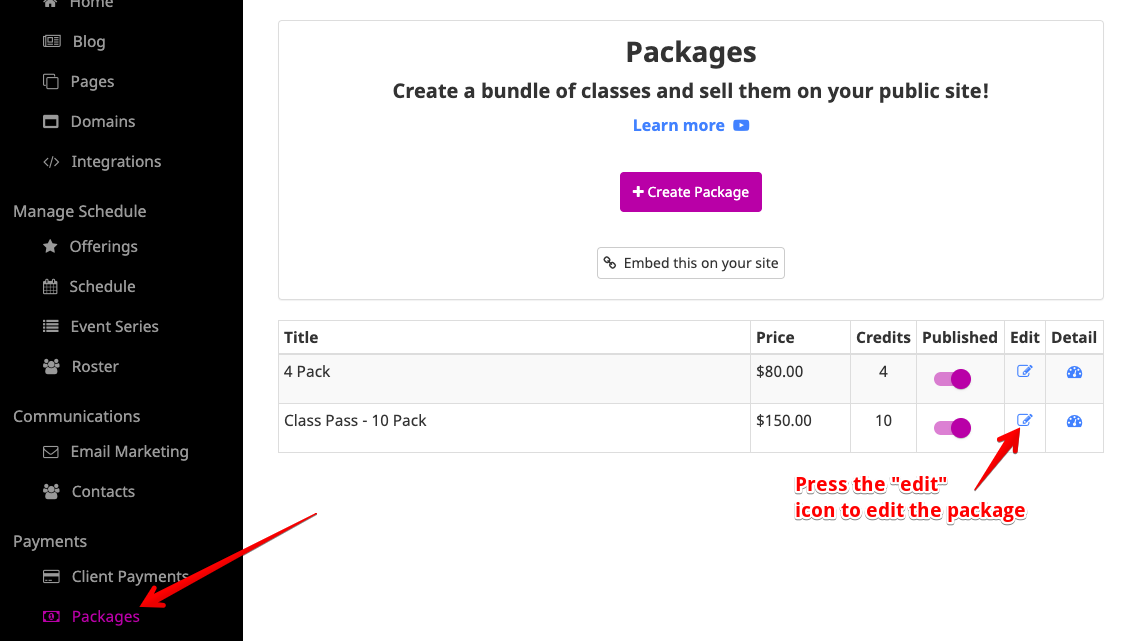 Once your press the "edit" icon, you should be taken to the "Edit Package" page where you can edit your package. The fields are the same as they were for the "Create a Package" page. Press the "Save" button at the bottom when you are finished editing your package.
Other helpful articles about packages:
How to View Purchased Packages
Refunding a Package or Package Usage
Linking a package to your store items
How Your Clients and Students Purchase and Use a Package
Check out this help article to see how clients can buy and use a package.
P.S. Join our Facebook group and connect with other OfferingTree users to share questions, offer ideas and insights, and support each other towards a more thriving wellness business.