OfferingTree integrates with Stripe to allow you to accept payments for your classes, workshops, and one-on-one appointments. Collect payments from your clients or students upfront before they attend your in-person or online offerings. Stripe is both safe and secure and trusted by millions of businesses. OfferingTree does not store credit card or banking information as it is passed on and stored by Stripe.
Connect a Stripe Account (Available in 40+ Countries)
Connecting to Stripe is a good solution for people both inside and outside the United States as Stripe works in over 40 countries. With this payment collection method, you will create (or connect if you already have a Stripe account) a Stripe merchant account that will be used to collect payments and issue refunds. You will be asked to connect a bank account to Stripe where the funds will be transferred. An advantage of using Stripe is that funds will begin to transfer to your Stripe account immediately after payment and you have more control over issuing refunds.
To create/connect your Stripe account, go to the "Client Payments" section of your OfferingTree admin site and press the "Add Payment Processor" button.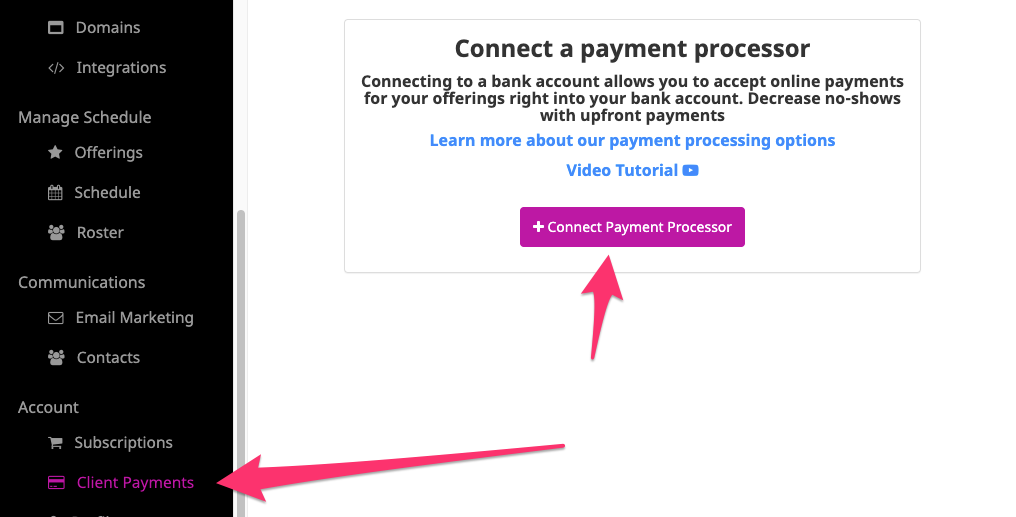 This brings up a dialog. Choose the second option.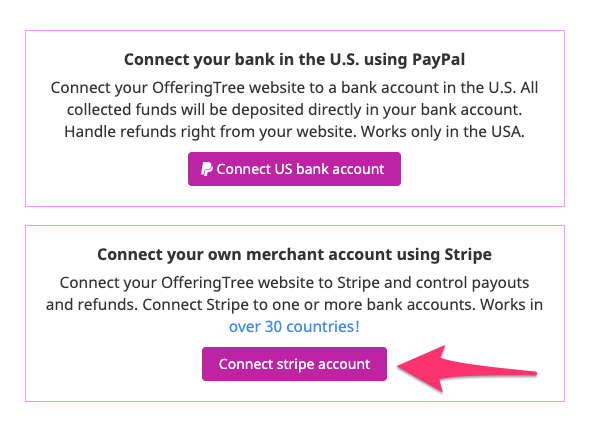 After clicking on the "Connect stripe account" button, you will be re-directed to the Stripe connect page like below. Complete the application.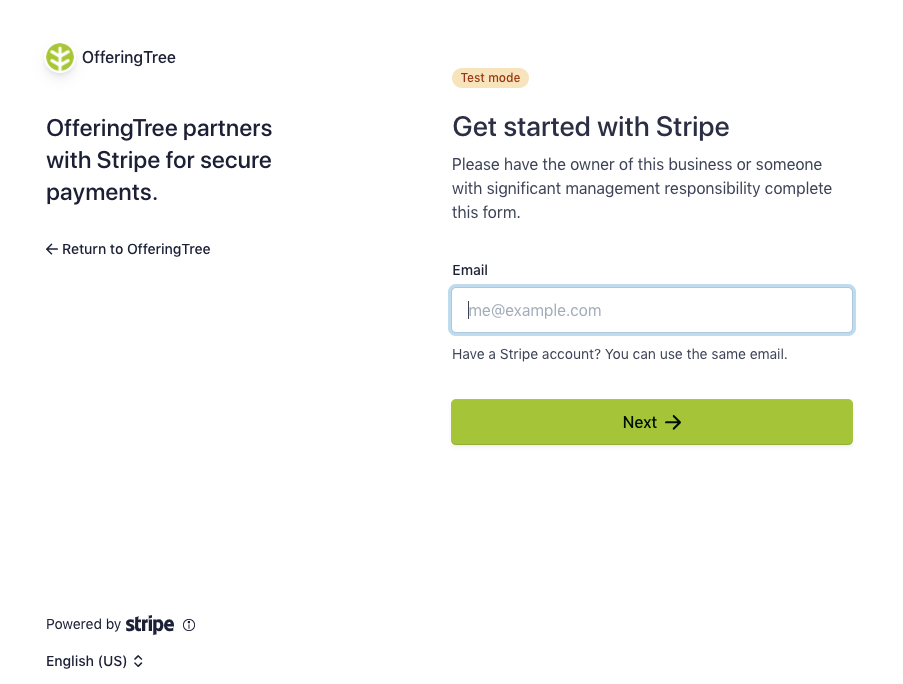 If you don't complete the application, you will see a card in the "Client Payments" section of your admin site that looks like the image below. You can continue your application by pressing the "Complete Application" button.

After you complete your application, your processor account is considered "Pending" until Stripe reviews and approves your account. You may be asked by Stripe to provide additional information. You can go back to your application to provide more information by pressing the "Edit Account Info" button in the card similar to below.

Once your account is approved, you will receive an email and your account card in the "Client Payments" section of your admin site will turn green and say "Active" (see below).

Congratulations! You are now able to accept credit card payments for your offerings.
Next Step: Add online payments to your events, event series and appointments.
Fees
When a payment processes through Stripe, OfferingTree charges a 1.9% transaction fee, and Stripe charges a credit card processing fee (varies by country). Below approximate Stripes fees by country or region are listed (not all countries or regions listed). See https://stripe.com/global for all countries supported by Stripe
US & Canada: 2.9% + $0.30 per transaction
UK: 1.4% + 20p (European cards) and 2.9% + 20p (non-European cards)
EU: 1.4% + €0.25 (European cards) and 2.9% + €0.25 (non-European cards)
Australia: 1.75% + A$0.30 (domestic cards) and 2.9% + A$0.30 (international cards)
P.S. Join our Facebook group and connect with other OfferingTree users to share questions, offer ideas and insights, and support each other towards a more thriving wellness business.