OfferingTree includes customer relationship management features that can help you more effectively stay connected to your clients and students. Read more below for how to get started.
Importing Contacts
If you have existing contacts in Excel, Google Spreadsheets or some third party application (e.g., MailChimp), you can import them directly using the below steps. Please remember that you need a person's permission to add them to your contact list so do not just import contact info without confirming that you have received the necessary consent to do so.
NOTE: you'll need to make sure that your contacts are saved as a comma-separated values (CSV) file in order to import them into OfferingTree -- here is additional help article about how to export them into this format.
Step 1 - Select "Import Contacts" in the top right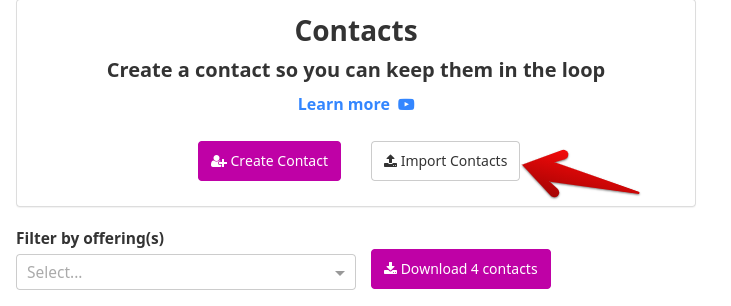 Step 2 - Select the CSV file on your computer

Check the Override existing name information checkbox if you would like the data in the csv file to take precedence and update the name for any contacts you have for someone with the same email address. This update will only happen if the person does not already have their own OfferingTree account, in which case that user would have to update their name from their user account.
Step 3 - Select the columns to import
Once you've selected your file, you'll need to tell OfferingTree which columns to import and which columns to ignore. You can do this by changing each column to "ignore" or a specific import field (e.g., name, first name, last name, email). NOTE: In order to proceed with the import, you have to at least tell OfferingTree which column contains the email addresses that you're importing, otherwise the "import" button will not work.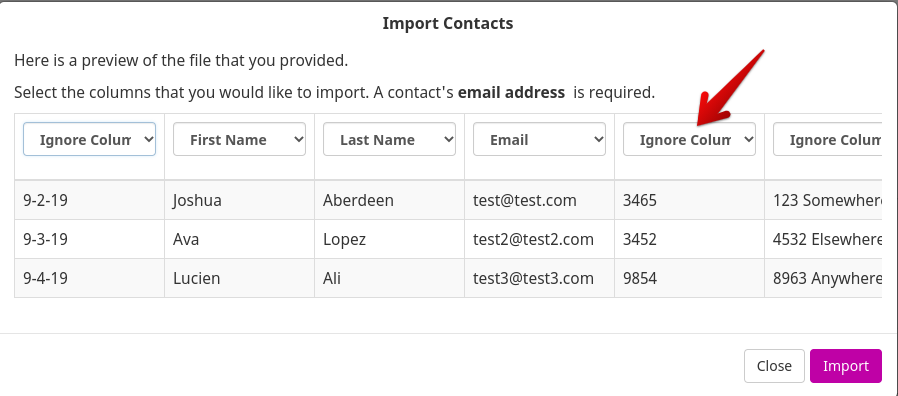 Step 4 - After import, click close
After the import finishes (i.e, full green bar), click close and you will now see your contacts in your OfferingTree site

Searching for Clients
You can easily search your existing contacts by typing in the search field. OfferingTree will automatically show you only the contacts that match your search criteria. For example, in the below search, any contacts with the letters "lo" in their name or email address are displayed.

Filtering Clients by Tag(s)
In addition to searching for clients, you can also filter clients by tag(s) that they've been assigned. The system automatically tags a contact whenever they sign up for an event, purchase a package, buy a store item, etc. You can also create your own tags and assign contacts to them.
To filter by tags, select the drop-down menu under "Filter Contacts" and then pick the tags you want included in the filter. You can also exclude contacts by selecting an excluding tag. You can choose multiple tags if you like. To remove a tag filter, simply click the small "x" next to the tag name.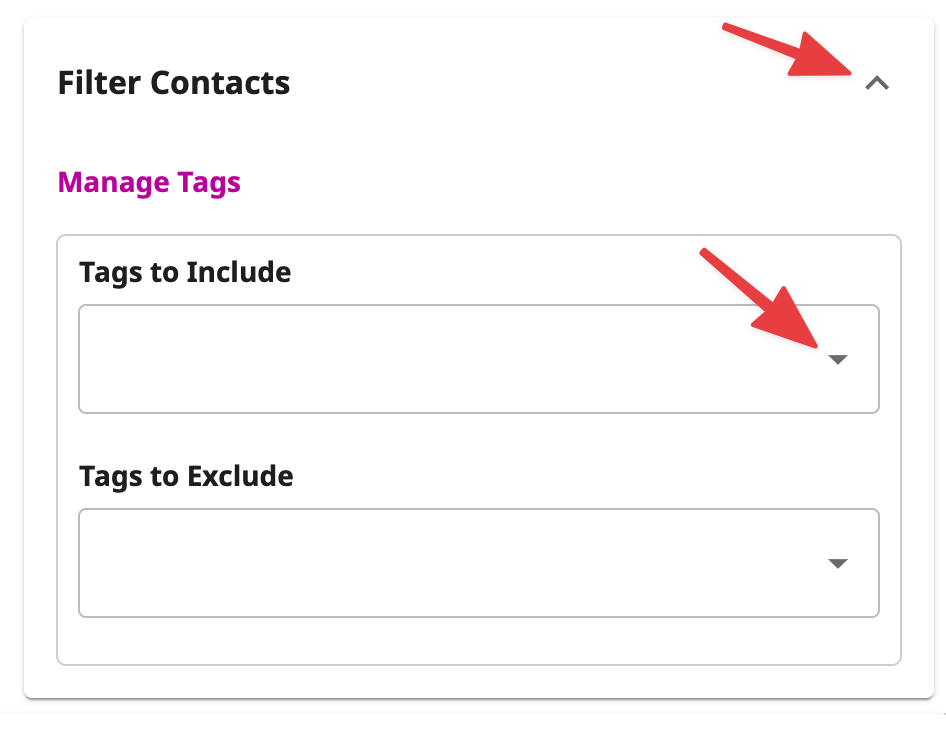 Selecting Clients
Once you've found the clients you wish to contact (either by searching or filtering), you can then select the clients you wish to contact by clicking on the box to the left of their name. If you want to select / unselect all visible contacts at once, simply click on the grey box with the dash at the top of the page. Also, you can select one or multiple contacts even as you navigate different pages of contacts and can even change the number of contacts shown on a single page.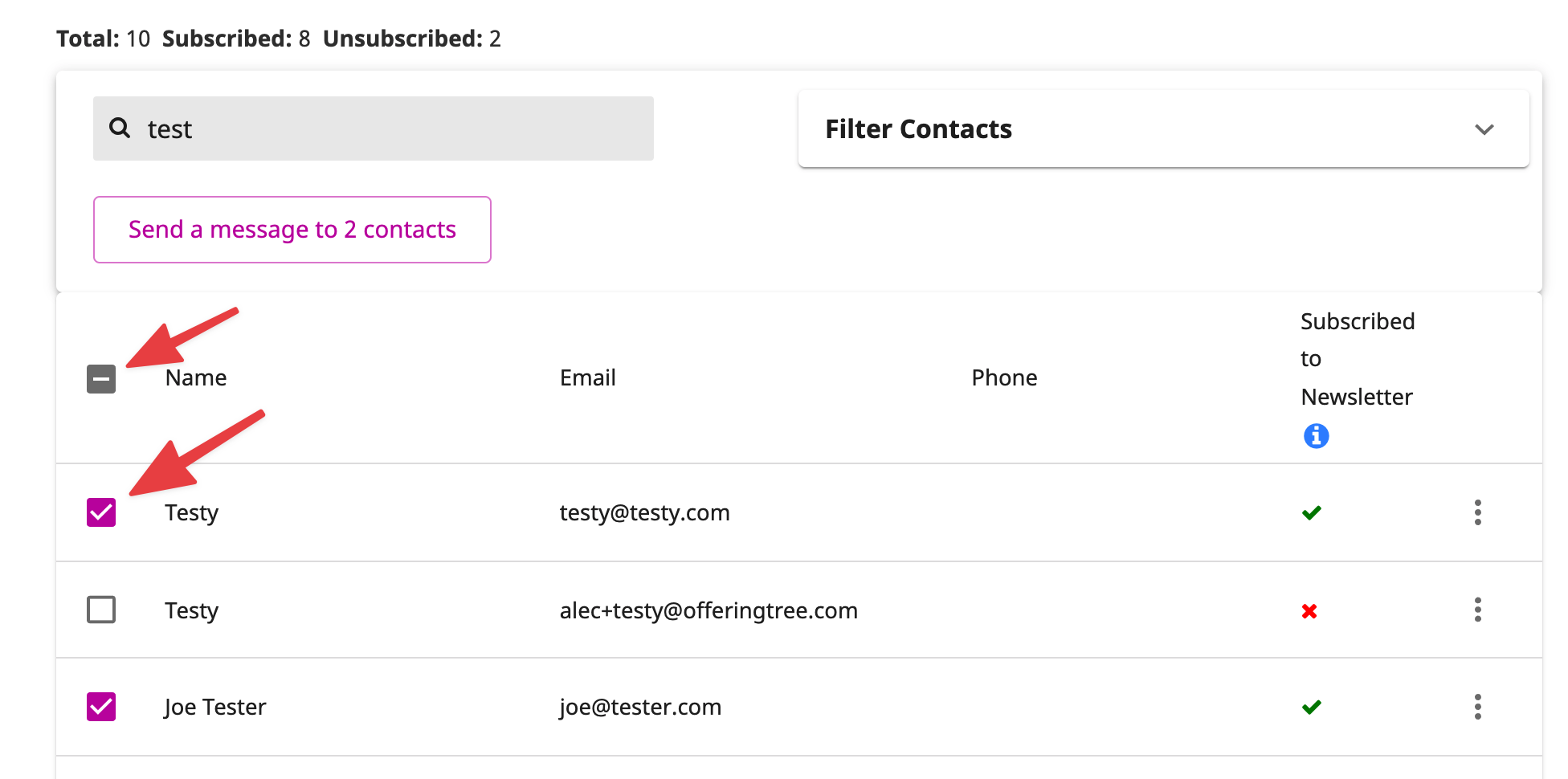 Emailing Clients
Once you've selected one or more contacts, you'll see a new button appear that says "Send a message to __ contacts." Clicking on this button will let you start composing an email to these clients.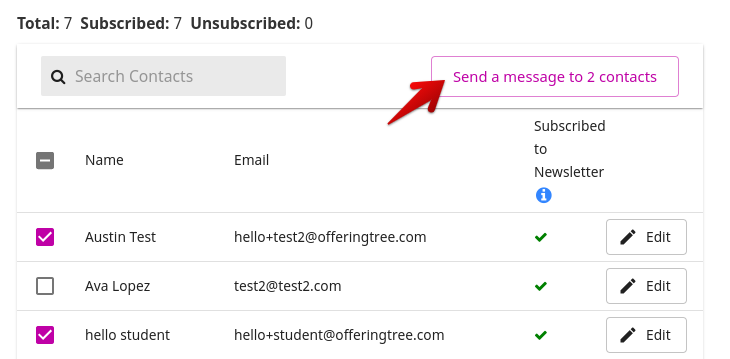 Managing a Contact
You can manage a contact by clicking on the three vertical dots within that client's contact entry. If you unsubscribe a client, they will still be in your OfferingTree account but they will no longer receive any future newsletters that you send out, however, if they sign up for a class again then you could still send them a roster message. If you delete a client, they will be removed from your OfferingTree site entirely and will no longer show up anywhere on your site (including registration information). The Edit menu item will appear if you can edit a contact's information. If the client has an OfferingTree account you cannot edit their information as this can only be done by the client using their user dashboard. You can view the details on what a client has purchased by pressing on the "View" menu or by clicking on their name or email. Please see this article for more information.


NOTE: Clients can always unsubscribe themselves from your newsletter by clicking on the unsubscribe link on the bottom of your communications. Please be aware that the unsubscribe link won't show up when you use OfferingTree's preview feature for testing your newsletter since you're opting to send it to yourself and so we don't include the unsubscribe link.

Creating a Contact
In addition to importing contacts, you can also manually create a contact by clicking on the "Create Contact" button. Simply fill in the name and email address for the new contact and click "create" and your new contact will be added to your OfferingTree site. NOTE: You need a person's permission to add them to your contact list so do not just add contact info without confirming that you have received the person's consent to do so.

Downloading Contacts
If you ever need to download the contacts within your OfferingTree site, then you can do so easily by clicking on the "Download __ Contacts" button. NOTE: You can also use the filter feature (see above) to download only a portion of your contacts (e.g., you might want to only download people you signed up for particular offerings)
To download all visible contacts in the table
Make sure the "filter by offering(s)" field is blank and then click on the download button. This will download all the contacts visible in the table. You can change the "Rows per page" at the bottom of the table to download up to 100 contacts at a time.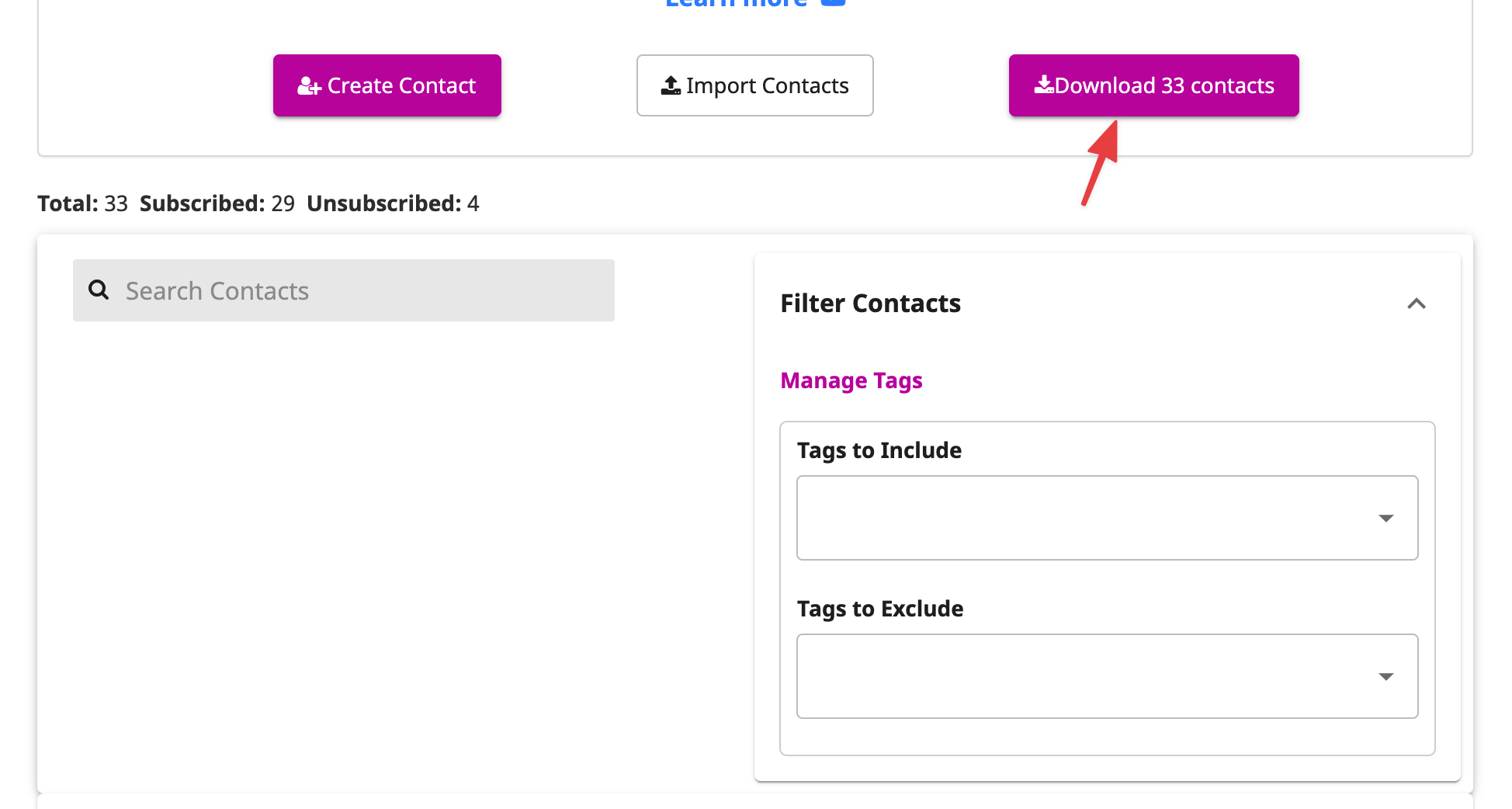 To download only contacts from specific tag(s)
Select the tag(s) that you want to filter your contacts by and then select the download button.