If you have existing contacts in Excel, Google Spreadsheets or some third party application (e.g., MailChimp), you can import them directly using the below steps. Please remember that you need a person's permission to add them to your contact list so do not just import contact info without confirming that you have received the necessary consent to do so.
NOTE: you'll need to make sure that your contacts are saved as a comma-separated values (CSV) file in order to import them into OfferingTree -- here is additional help article about how to export them into this format.
Step 1 - Select "Import Contacts" in the top right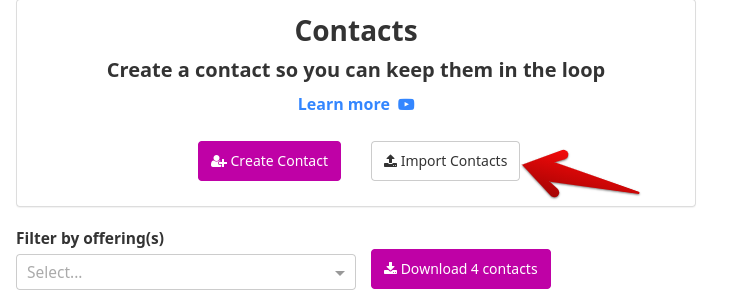 Step 2 - Select the CSV file on your computer

Check the Override existing name information checkbox if you would like the data in the csv file to take precedence and update the name for any contacts you have for someone with the same email address. This update will only happen if the person does not already have their own OfferingTree account, in which case that user would have to update their name from their user account.
Step 3 - Select the columns to import
Once you've selected your file, you'll need to tell OfferingTree which columns to import and which columns to ignore. You can do this by changing each column to "ignore" or a specific import field (e.g., name, first name, last name, email, phone number). NOTE: In order to proceed with the import, you have to at least tell OfferingTree which column contains the email addresses that you're importing, otherwise the "import" button will not work.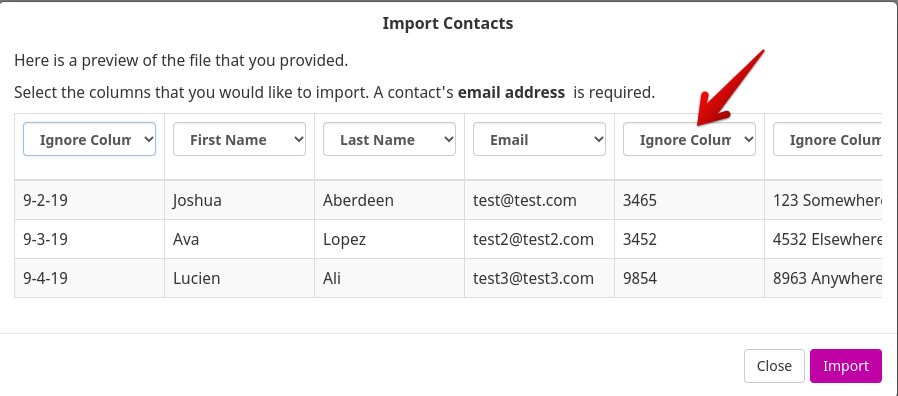 You can also choose to add a tag to these imported clients. You can select from an existing tag or create a new tag by typing in the tag name and hitting the "Return" key.
Once everything is setup, click the "Import" button.
Step 4 - After import, click close
After the import finishes (i.e, full green bar), click close and you will now see your contacts in your OfferingTree site