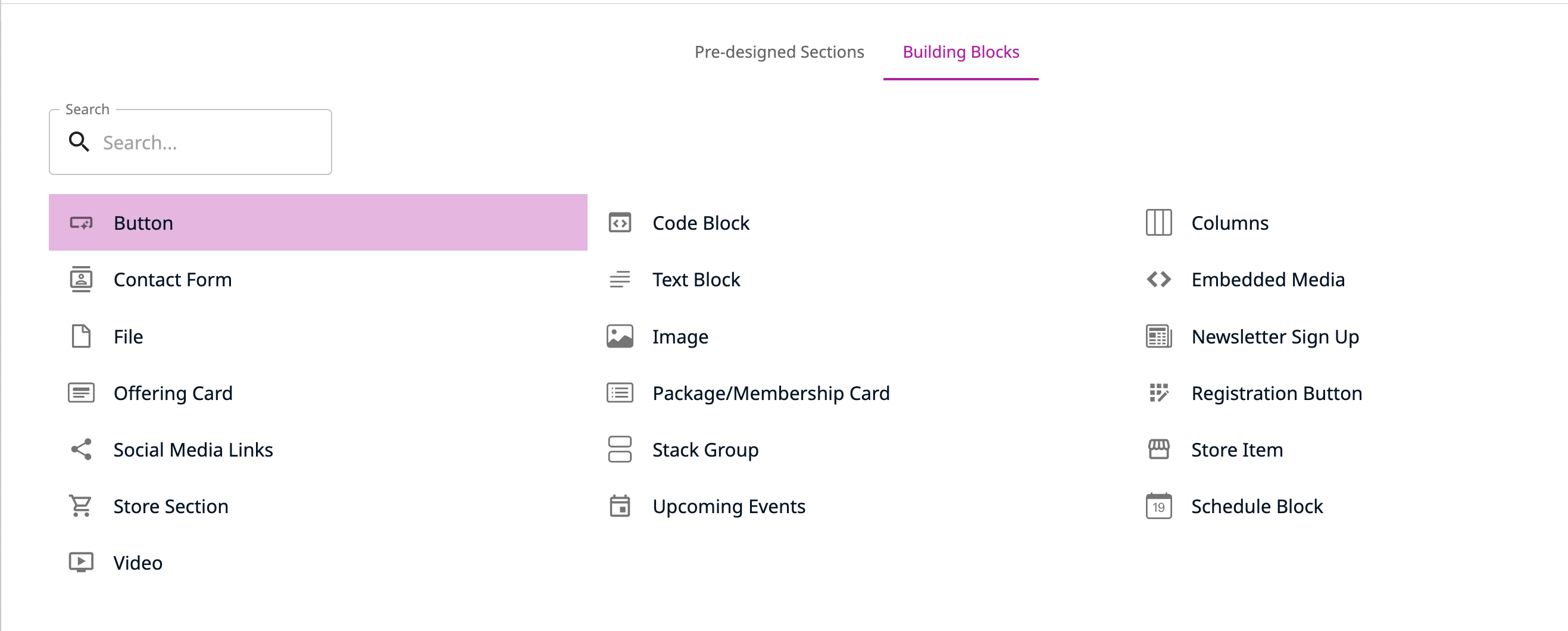 OfferingTree's page builder has a variety of building blocks that you can use to create content on your web pages. If you're looking for pre-designed sections that come pre-styled, check out our page sections. The rest of this article describes each of the blocks and how they can be configured for your webpages. The blocks on this page are listed in alphabetical order.
Button Block
Buttons are a great way to have your webpage visitors take some action on your page. Watch this video to learn more about the button block.
*Note: Your button link won't work in edit mode, check out your page on your public website to check the button link
Code Block
Code blocks allow you to add your own custom HTML to your pages. This allows you to add embed code from other services, or write your own HTML to put on your page!
Columns Block
The Columns Block allows you to add multiple blocks side-by-side in columns. It's a pretty handy tool to get your page to look just right. Watch the video below to learn more.
Contact Form
A contact form allows your clients to write you an email without you having to give out your email address. There is a contact form on the default footer of every OfferingTree site, but you can also add it to any custom page or anywhere on your home page. Here is a short video describing how to use the contact form block.
Embedded Media
With the Embedding Media Block, you can embed video, audio, Google Docs and other media right on your website. To learn more about it, watch this video.
File Block
The OfferingTree page builder is flexible and includes many "blocks" which allow you to create amazing web pages. One of the blocks called the File block which allows you to embed a file on your site with a preview. For instance, let's say you want to add a PDF file to your web page. You can use the file block to show the PDF file right on your website!
To use the file block, click on the plus button on the page you are editing and select "File". Then select the edit pencil and this brings you to the file settings screen as shown below.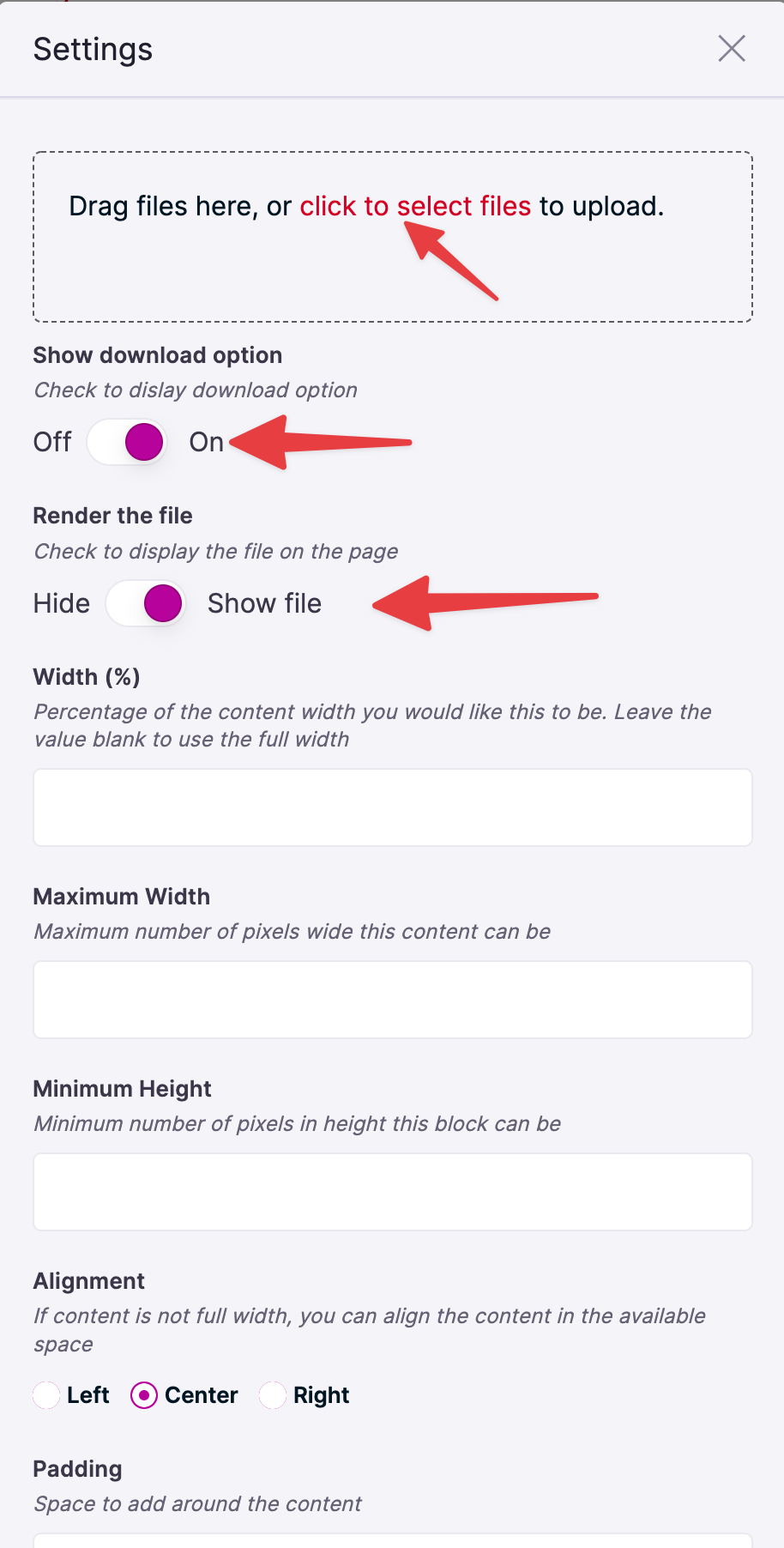 You can drag files into the first rectangle to upload the file you want to show or alternatively click on the link to select a file on your computer. The next option is to show a download link right below the file preview. If you do not want to show this, simply set the switch to off. The third option is to show or hide the file preview. Showing the file preview will make the file visible on the web page. Hiding it (along with showing the download link) will hide the file preview but show a download link. Handy if you simply want to provide a file download link. The rest of the options are the standard spacing and alignment options. Save your page and see how it looks on your website!
Image Block
Make your page come to life with images. Watch the video to learn more.
Newsletter Signup Block
With the newsletter signup block, you can add your newsletter sign up form anywhere on your pages!
Offering Card
With the Offering Block, you can add an offering card to your custom pages. This is a great way to highlight one of your offerings.
Package or Membership Card
Highlight one or more of your memberships and packages on your website with the Package & Membership Block.
Registration Button
Adding a registration button will allow your site visitors to directly register for an event, class, event series or appointment. Watch the following video to learn more about adding a registration button to your website.
Schedule Block
You can add your entire schedule with a few clicks to any custom page on your website with the Schedule Block.
Social Media Links Block
If you are an active social media user and have social media accounts for your business, you can add links to your accounts on any page including your home page. The default home page template has social media links in the footer, but with the social media links block you can add this in the content area of your home page or on any custom page. Here is a short video describing how to use this block.
Stack Group Block
The Stack Group Blockallows you to add multiple blocks together in either a horizontal or vertical list. It's a pretty handy tool to get your page to look just right. Watch the video below to learn more.
Store Item Block
Highlight one or more of your videos, courses, challenges and other store items on your website with the Store Item Block.
Text Block
Adding text to your web pages is about as basic as it gets, but there are a lot of options and style choices you can make. Watch the video to learn all about it!
Upcoming Events Block
Keep your clients and students informed of what's coming up with the Upcoming Events Block.
Video Block
The video below shows you how to upload and add videos to your custom pages.