OfferingTree supports one on one appointments, which allows your clients to book a time that is convenient for both of you. There are occasions, however, where you need to book an appointment on behalf of your client. This is fully supported by the software - and you can even use the client's package or membership to book on their behalf!
To get started, go to your Offerings page on your admin site and select the schedule icon in the table for the Offering you want to book.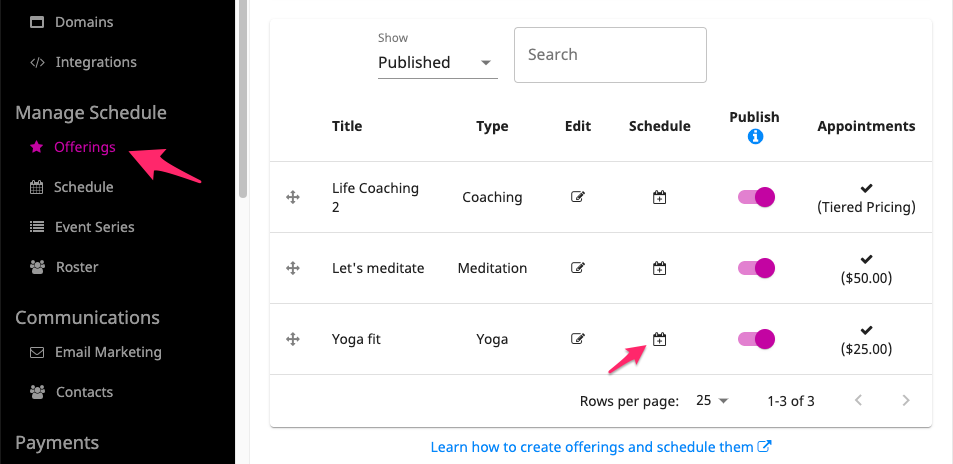 This brings up a decision modal. Select the "Schedule an Appointment" option. This brings you to the appointment booking page. The first thing you'll see is a modal to enter your client's name and email. It is important to use the email your client has used to register for OfferingTree. This is needed to look up their purchased packages and membership. If it's a new client, no worries, just enter their name and email and you'll have the option to pay using a credit card or to skip payment. After you enter the name and email you will see a form like below.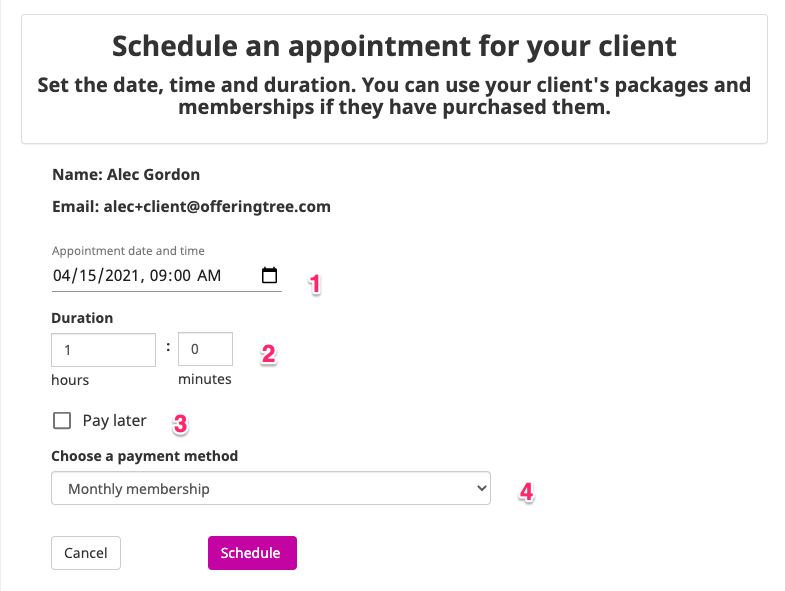 1. Enter the date and time of the appointment. Note, the date and time you enter will not be checked against your availability schedule or your class schedule. You are responsible to make sure you are available at this date and time.
2. The duration of the appointment.
3. You can choose to receive payment later if you check this option. Otherwise, either a package/membership or credit card is required to register.
4. You can choose to register with a client's package or membership. Choosing the credit card option will allow you to enter their credit card information.
That's it. Simply hit the schedule button and the appointment will be booked. Your client will receive an email and if it's an online appointment the meeting link.
Here are some related help articles:
Online Appointments With OfferingTree
Waiver Consent for Events, Event Series and Appointments
Reach out to support@offeringtree.com if you should have any questions.