You can embed your OfferingTree offerings in your own website. It'll look exactly the same as it does on your OfferingTree site and automatically update whenever you make changes to your offerings. You will need to create a space (page, container) to place your offerings on your site.
To embed your offerings, simply go to your Offerings page on your admin site and click the "Embed Offerings on Your Site" button.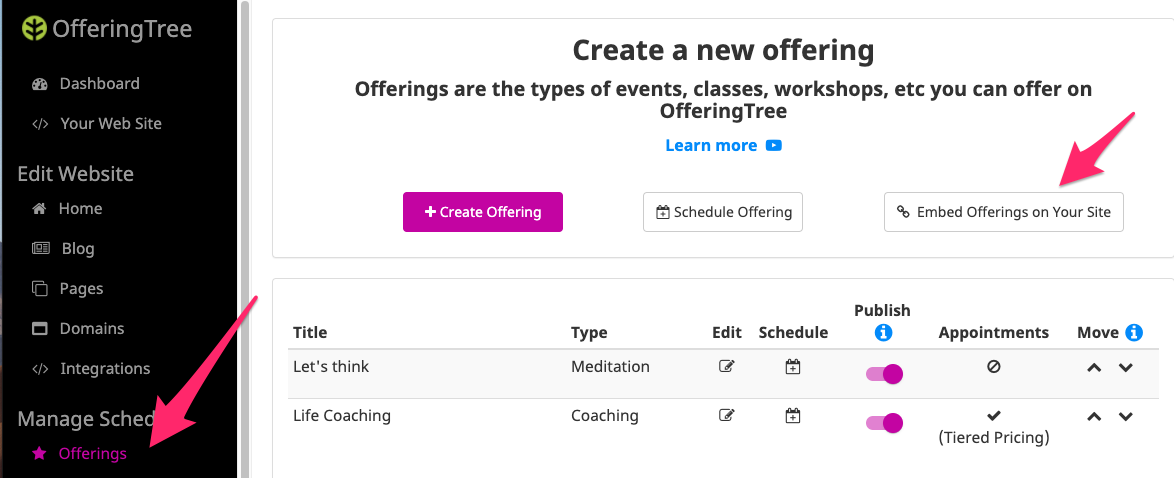 A modal pops up and contains instructions and the exact code snippet you need to embed your page. Simply press the "Copy to clipboard" button and paste the code snippet in your website.
You can also embed a particular offering page into your site. To do so, go to edit the offering and press the "Embed this offering on your site" button.

Embedding OfferingTree's powerful wellness tools requires a bit of web knowledge, but it simplified because the code snippets are created for you.
Each website provider has different ways to embed content. So please refer to the documentation of your website provider for instructions on this. We've linked to a few popular ones below:
P.S. Join our Facebook group and connect with other OfferingTree users to share questions, offer ideas and insights, and support each other towards a more thriving wellness business.